Exploring the Jewels in the Crown
Over 60 people gathered Friday, November 20, 2015, at the Steele/Burnand Anza-Borrego Desert Research Center to discuss landscape-level governance models that have been adopted and enacted as part of the Crown of Continent Initiative.  Crown of the Continent is a collaborative conservation initiative between American and Canadian interest groups.  In collaboration with the University of Montana, the Crown of the Continent effort began by bringing together a robust network of citizen-based initiatives, governments, agencies, and commercial interests to develop a common agenda. 
The Crown of the Continent initiative has resulted in a collaborative resource management council, a commitment to attain World Heritage Designation, a partnership with the National Geographic's Geotourism program, and an associated National Geographic Society endorsed marketing program.
Attendees of Friday's meeting at the Research Center represented those who serve on governing boards of organizations in Borrego Springs.  A collection of more than 21 organizations, government officials, and agency staff participated in this program.  Current and former employees of the Anza Borrego Desert State Park pointed to the parallels between the landscape level success story of the Crown of the Continent and the current story unfolding in Borrego Springs.
Last year the National Geographic's Geotourism program was introduced to thought leaders of Borrego Springs in a similar roundtable format. As a result, over the last year, a Geotourism inspired Stewardship Council and a governing charter were co-created and adopted. This new Stewardship Council immediately endorsed the idea of developing a Geotourism inspired marketing program and the pursuit of World Heritage Designation for the Anza Borrego Desert State Park. 
Friday's meeting opened as Dr. Travis Huxman, Director of the Research Center, acknowledged the similarities between Crown of the Continent and the Borrego region, as well as the aspiration to demonstrate this collaborative landscape level governance model in Borrego Springs through the new Stewardship Council.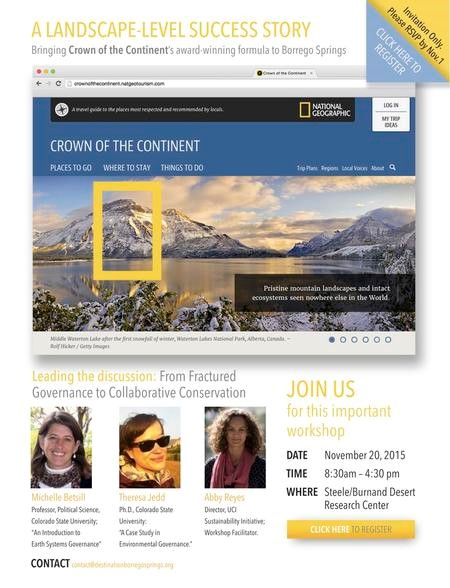 The balance of the meeting took the form of a workshop demonstrating how a collaborative governance process might guide the new Stewardship Council as it moves forward to help address some of the most challenging issues facing the region, e.g. sustaining and promoting a viable nature economy, achieving sound water management, maintaining healthy air quality, ensuring equitable land use management, and managing threats to a rich, thriving, and biodiverse ecosystem.

The outcome of the afternoon session was the demonstration of a process for objectively evaluating any major issue facing our region, in detail and from multiple perspectives. In our 2016 workshop we will take a closer look at the water crisis in the Valley and specifically at how the National Geographic's Geotourism program may be the perfect fix.